This week we held the 2nd Monthly Medal of the year and with the weather proving to be slightly more challenging than was originally forecast, the 84 members that signed on were greeted by strong winds but bright conditions. Heavy rain showers in the afternoon will have caught many out but the race to the top was very close. The 3rd, 4th and 5th placed players all scored 69 nett and the winner of the countbacks to take 3rd was Bob Clague. James Smith took 2nd place with a nett 68 and this was enough to realise his dream of getting past the 19 handicap mark! The day's winner and also taking the lowest gross prize was Martin Cairney with a superb 73 less 7 for a nett 66. Nearest the pin on the 10th was won by Kevin Middleton.
Sunday's Pro Shop Open and Winter League stableford was played in lovely conditions, sunny, hazy, bit of a breeze but great golfing weather. We had a good number of visiting players taking part in the comp which is great to see. The winner was Adrian Marsh with 42 points ahead of Tony Grant with 36 points and after a countback. In 3rd, also with 36 points was Jon Wagstaffe from Castletown Golf Club.
The final round of the Winter League is next week (weather permitting) and Ian Nicholson is in a very strong position, in fact, there's a lady out there warming up her vocal chords but full results will be published after the final round has been completed.
The women's penultimate 14 hole fun competition last week was a Pyramid and was won by Prue Pell-Hiley, Amanda Woodward and Alma Barker with 52 points. In 2nd were Jessie Perry, Maureen Knight and Bridget Pugh with 50 points and in 3rd were Lady Captain Gillian Pearson and Jill Hamilton-Turner with a little help from Bridget's card which was drawn at random to make up their team. The ladies season starts next week with the March Monthly Medal so hopefully this unseasonably warm weather we've been having recently is a sign of things to come.
You may have noticed work going on at the back of the greenkeepers shed and the old pro shop recently, clearing the dense vegetation from the area. This has revealed a large space where the greenkeeping vehicles and equipment will be stored at one end and members' buggies at the other. The front of the vehicle garage has had slabs laid which will prevent the mudbath which has occurred there up to now and provide a much more pleasant working environment for the greenkeeping staff. All of this work will tidy up the entrance to the car park which can only be a good thing with the season about to start very shortly.
(Clicked to enlarge).
Have you met Brad yet?
He's the new member of our Pro Shop team and is very photogenic! His main job is to show off the great golfing apparel we have in the shop but he also likes to post on Instagram under his '
proshopbrad
' account, so find him and follow his antics. He's giving our Lewis a run for his money with the ladies!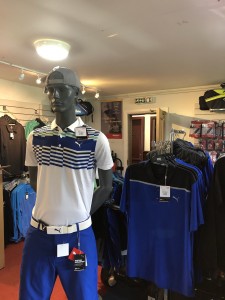 In more news from the Pro Shop there is now an arrangement with Conister Bank to offer finance to help with those big purchases. There's a minimum limit of £500 and 0% interest to pay. This is a fantastic deal and is 'keeping it simple and local'.
Quiz Nights
This Friday (1st March) sees the final round of our Quiz Nights which have been as popular as ever. Held over 3 consecutive weeks there is a prize for the winning team each week and there will be a prize for the overall winning team. Together with a raffle to finish the evening, it is a very enjoyable way to spend a few hours and is also raising valuable funds for the captains' chosen charities, Monitors for Kids and Womens Aid, together with a small donation to the Club's 125 Club which will mark the 125th anniversary of Peel Golf Club. Teams of up to 6 people are welcome with a nominal charge of £1 per person so if you fancy a night of exercising your brain power then come and join us.